The first doubt for people who hasn't used straw briquette before is what if there is smoke created by the burning briquette, where does this idea come from? It is from their memories of suffering the smoke caused by burning the straws in the fields.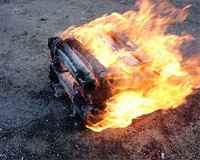 The straw does contain some impurities that are more likely to cause smoke, but the amount of smoke could be prevented very easily, and the smoke is in very small amount. The smoke caused in the fields is due to 2 reasons: incomplete burning and the high water content in the straws, moisture in the earth would worsen the smoke conditions.
Before the briquette production, the straws have to be dried first, the proper water content in the straws could help the fiber and lignin to combine together better, and to lower the smoke amount during the burning. In the stoves and fireplaces, straw briquette gets burned completely with very little smoke created, especially in the biomass stoves.