The garbage that disposed by people in cities are transported to the transfer station, then to the landfills, this is the most common way in many countries, while one problem that caused by the growing population is more garbage is produced each day, the landfill wouldn't make the garbage degrade faster, so burning them for electricity generation becomes a very good option, and it seems to be a perfect plan.
While in most of the garbage burning power plants, garbage burning has caused serious air pollution, one toxic gas is called dioxin, it's chemical status is very stable, it is hardly dissolved in water but very easily in organic solvent, when it is breathed in by one man, it could stay for 14 years in the body and cause serious health problems.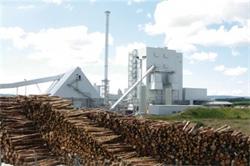 Is there a solution to this problem? The key is in garbage classification, a well designed garbage power plant shouldn't be burning all kinds of garbage, some garbage has to be picked out for other proper treatment, especially the ones that create dioxin, and one disadvantage of garbage power plant is that the heat efficiency bounces due to the garbage quality.
Use the biomass matters in the garbage to make briquette would solve the problem listed above, the heat efficiency would be easy to control; there will be no pollution to the air to endanger people's health; the stove equipment's service life time is increased. By working together with the biomass briquette plants, the garbage power plant will go further and faster.