GEMCO GC-HBP125 Hydraulic Briquette Machine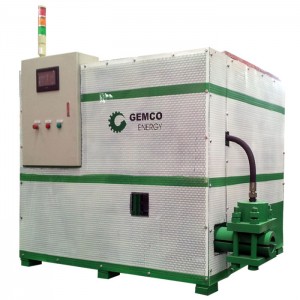 Introduction
Briquette machine is also called briquette press machine. This hydraulic briquette machine can briquetting all kinds of wood wastes, straw stalk, straw residues, wasted papers, wasted clothes, wasted plastics and other wood or biomass wastes to large masses. Finished briquettes are high density bioenergy products which can be processed into rectangle, octagon, hexagon, round, and various other of shapes.
Working Principle
After being pulverized, tree branches, twigs and waste wood blocks will via the machine be extruded into briquette, with the moisture content of roughly 12%. Specifically, feedstock is loaded into a material bin, conveyed through a screw conveyor to the briquetting cavity, and pressed into blocks in sequence after the work of hydraulic cylinders and the mould. The product, with the forming density of 0.7-1kg/dm3, will be pushed out along with the slideway.
Parameters
GEMCO GC-HBP125 Hydraulic Briquette Machine

| Items | Values |
| --- | --- |
| Max .Capacity (kg/h) | *125 |
| Power (kW) | 7.5+1.5 |
| Briquette formats (mm) | Φ 70, length is adjustable |
| Volume of Hopper (m3) | 1.5 |
| Weight (kg) | 1200 |
| Dimension (mm) | 3150*1270*1790 |
FAQ
How is the quality of the hydraulic system?The hydraulic system is consisted of the high quality equipment, such as, the REXROTH original hydraulic valve, Y3 high quality motor and PZS. The high quality of the each equipment ensures the stability and reliability of the hydraulic system.
How to control the temperature of the hydraulic oil?The whole set of intelligent hydraulic oil control system is adopted. When the temperature of the hydraulic oil is approaching to the high or low temperature limits, the intelligent hydraulic oil control system can automatically turn on or turn off the fan cooling system or the electric heating system to ensure the hydraulic oil at the desirable temperature.
Is the manual operation possible?The operation system is consisted of manual operation system and automatic operation system. The user can choose the proper operation system according the situation. The human-computer interface is elegant, humanized, and simple which can be easily mastered by the mass workers; the status bar on the man-computer interface presents the working status of each part directly to the user. And also the user can adjust the time and volume of material feeding on the man-computer interface directly and conveniently.
How does the alarming system work?The impeccable fault alarming system is designed to include the reliable over-pressure alarming, temperature alarming, blocking alarming, etc. Green light on indicates health running; yellow light on indicates regular error (a shutdown examination is suggested); red light on indicates a severe accident and forced shutdown.